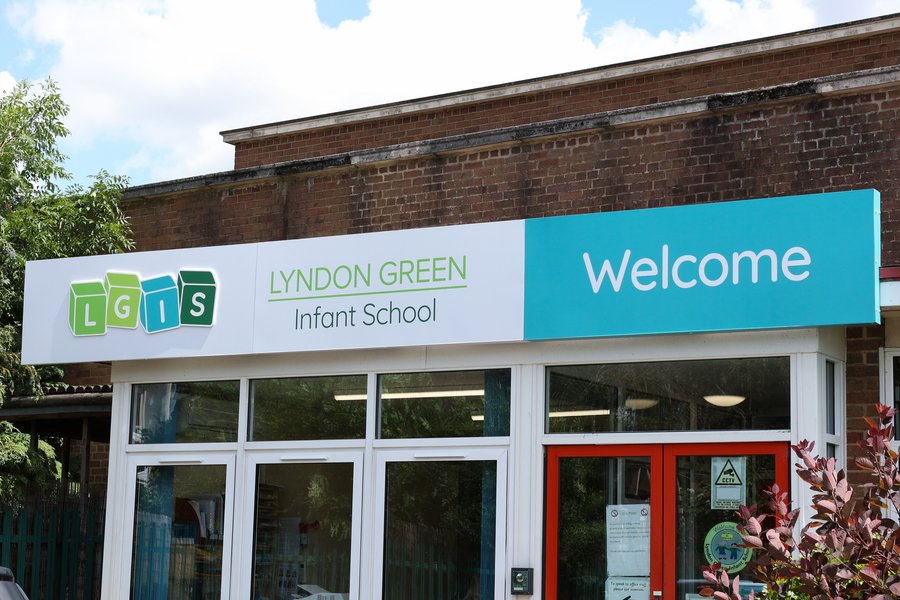 School Information...................
THE SCHOOL
Lyndon Green Infant School is a popular inclusive school with a special unit for children with Cognition and Learning Difficulties. Partnership is a key word here at Lyndon Green, and all those associated with the school, staff, governors, parents and children, celebrate achievement in all its forms, value highly the contribution made by children with special needs and enjoy working together. We share a campus with our partner junior school, and there is regular co-operation and consultation between the two schools to ensure continuity and progression for our pupils. Strong links exist between our school and Garretts Green Nursery School. We also enjoy the mutual benefits of working with other schools, as part of a teaching school alliance.
Our school is in Sheldon, which is an outer urban district of Birmingham, with mainly privately owned housing with a few rented or council properties, not far from Birmingham Airport. Most pupils come from the immediate locality. The national school's contextual information for the basic characteristics of all schools shows that our school has a broadly average deprivation factor.
Our school aims to create an inclusive, friendly, stimulating and caring learning environment, which nurtures curiosity, and where each child will develop a love of learning that will remain with him/her throughout life. The emphasis is on encouragement to foster achievement, confidence and success for everyone.
SCHOOL MOTTO
If you see someone without a smile, give them one of yours.
ACCOMMODATION
The school was built in 1952 and enjoys spacious indoor and outdoor accommodation. Great pride is taken to ensure that the environment is bright, stimulating and welcoming. All rooms are on the ground floor, except for a support room (The Loft), on the first floor. The school is adapted with lifts and ramps for pupils with physical disabilities.
The classrooms are spacious, all with their own stockrooms, interactive whiteboards and double doors opening out onto a patio/garden area for outdoor work. There is a separate hall and dining-hall, and healthy meals are cooked on site. There are two large playgrounds and a dedicated outdoor classroom area for the Foundation Stage. In addition every year group attends Forest School, we have three designated Forest School classrooms one each for Reception, Year 1 and Year 2.
STAFFING
The Governing Body believes that good quality staff are essential for a successful school and give a high priority to staff development and training. The school is well staffed to meet the various needs of our pupils, including flexible support staff to support pupils with specific needs.